Quickguide/Schnellstart
1. Account creation with Boinc/Accounterstellung mit Boinc
http://bbc.cpdn.org/create_account_form.php
2. Attach to project/Projekt anmelden (Boinc)
http://bbc.cpdn.org
+ Password
Join our team/Unserem Team beitreten
http://bbc.cpdn.org/team_join_form.php?id=54
3. neccessary files will be downloaded and model will be prepared for creating new files (takes some time, 370MB)/notwendige Dateien werden heruntergeladen und das Modell wird vorbereitet, Erstellung neuer Dateien (nimmt einige Zeit in Anspruch, ca. 370MB)
System specs:
100MB RAM
max. 600MB disk space
Standard Screen/Standard Bild
Now by pressing z the side panel will be disappeared/Bei drücken der Taste z verschwindet das Seitenfenster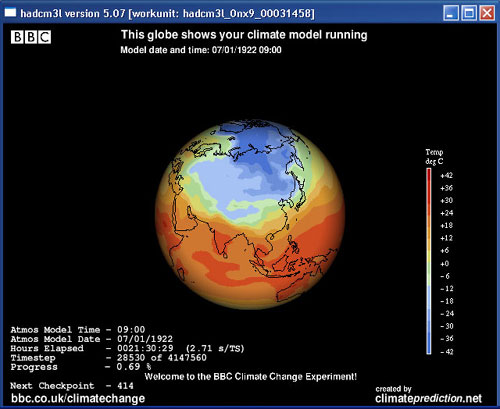 What are you seeing in display/Was sieht man in der Anzeige?
Atmos/Ocean Model Time: 00:00
Atmos/Ocean Model Date: 07/01/1921
Hours Elapsed: 0021:00:00 (2,71s/TS)
Timestep: 28000 of 4147560
Progress: 0,58%
Next Checkpoint: 432 (total, running backward to the next)
Atmos model Time and Ocean model time will be calculated separately (1d)
Atmos Modell Zeit und Ozean Modell Zeit werden separat berechnet (1 Tag)
Timestep:
After a timestep of 25920 (*2) boinc is sending a trickle to the project server and will be credited (259,20)
Nach einem Timestep von 25920 (*2) sendet Boinc ein Trickle zum Projektserver und dieser wird mit 259,20 Credits belohnt

Next Checkpoint:
Means that the current position will be saved, is needed if you are stopping boinc...
Nächster Checkpoint: Bedeutet, dass die aktuelle Position gespeichert wird, wird gebraucht, wenn man Boinc mal stoppen will...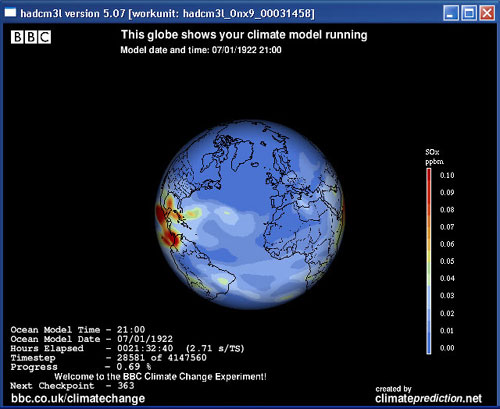 Need Help press h, Brauchst du Hilfe drücke h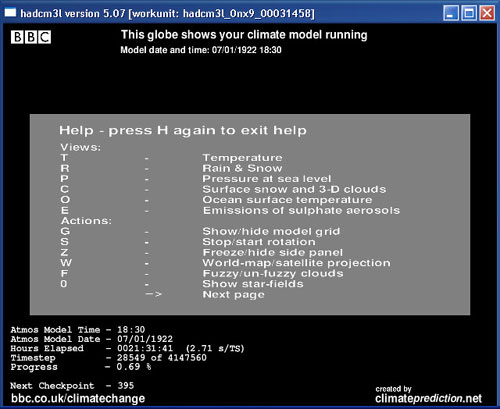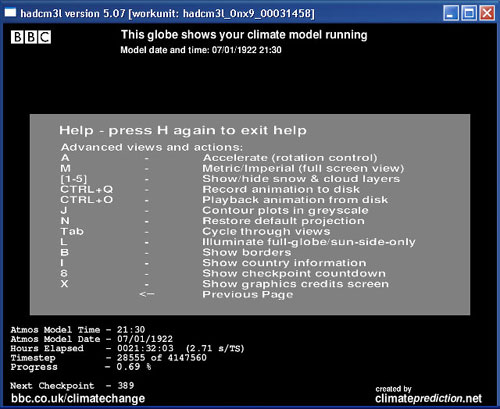 display World Map press w, für Weltkarte w drücken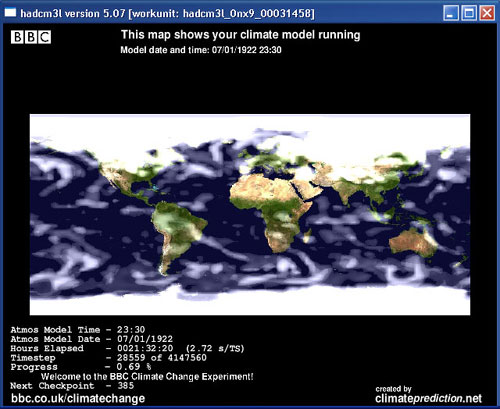 Quickkeys:
e=emission
c=clouds
t=temperature
p=pressure
o=ocean
w=worldmap (switching between 2D/3D)
g=smoother colours (grid on/off)
h=help
z=sidepanel on/off
Errors:
exit code 99 (0x63)
fehlerhafte Parameterdatei